– HAPPY CHINESE NEW YEAR 2021 –
"Xin Nian Kuai Le" (Happy New Year in Mandarin) or "San Nin Faai Lok" (in Cantonese)
2021 is the year of the Ox
The Chinese New Year starts on Friday February 12th 2021 and ends on January 31st, 2022, according to the 2021 Chinese horoscope.
Did you know that the Ox is the 2nd sign from the 12 animals cycle of the Chinese Astrology? and for this reason 2021 is considered a year for strength and determination.
In the Chinese Zodiac, the Ox is very hardworking and methodical. 2021 is going to be a year when work will get rewarded, and those zodiac signs who are lucky in terms of money this year will be the ones that will make a considerable effort.
Content sourced from https://www.thechinesezodiac.org/chinese-horoscope-2021-year-of-the-metal-ox/
The Chinese New Year is celebrated globally and also in the local UK Chinese communities (Chinatown areas) especially in larger cities like London, Manchester and Birmingham.
But instead of the colourful festivities over this weekend, which usually include a Chinese dragon parade through the cities. Everyone will be celebrating in the comfort of their own home, due to the Covid19 lockdowns currently in place in the UK.
The Chinese people love nothing more than celebrating with food;
Some favourites include: Spring Rolls, Hot soups, Dumplings, Noodles (especially long noodles), Steamed Fish and Chicken, and various vegetable side dishes.
For Chinese New Year, people like to eat long noodles. They are also called 长寿面 (cháng shòu miàn), which means "longevity noodles." You aren't allowed to cut them and should try not to chew either. Apparently the longer the noodle, the longer your life will be.
Also many food and meats have symbolic meanings, the Chinese people believe eating these around this period promotes the meaning,  these include:
Eggs: big and healthy family
Lobster: endless money rolling in
Shrimp: fortune and wealth
Roasted pig: peace
Duck: loyalty
Peaches: longevity
Tofu: happiness and fortune for the entire family
Fish: surplus and wealth
Some symbolic vegetables to consider include:
Seaweed: symbolise wealth and fortune
Lotus seeds: a blessing for many children and a healthy family
Bamboo shoots: represent longevity, as well as going onward and up
Muskmelon and grapefruit: symbolise family and hope. In addition, grapefruit symbolises wealth and prosperity
Osmanthus flower petals: in Chinese, osmanthus 

(桂—guì)

 is a homophone 

贵

, which means noble and precious
Leek/chives: leek 

(韭—jiǔ)

 sounds similar to 

久

, meaning long and everlasting
Poria mushrooms: another play on words, this mushroom 

(茯苓—fú líng)

 sounds similar to 

福禄 (fú lù)

, or blessings and fortune
Another must for Chinese New Year is a cake called Nian Gao, also known as "rice cake" or "New Year cake" in English.
In ancient times, Nian Gao were only used as offerings to the ancestors and gods. Gradually, they became a traditional dish during the Spring Festival. Now they are available every day of the year, but are still a special treat for the festival.
Nian Gao also has the same pronunciation as 高 (gāo – tall/high). It's a wish for the Chinese people to be successful and "higher" each year. They believe that every year will be better than the last!
As many of our overseas staff are local to China, Taiwan, Hong Kong and the surrounding area, I asked them about their own family Chinese new year traditions.
Mona our China Manager says;
The China office have already started to celebrate, we enjoyed a night out at our local restaurant for our New Year dinner, we all had a great time!
There was lots of colourful, festive decorations on display, including the Golden Dragon; Chinese dragons symbolise wisdom, power and wealth, and they are believed to bring good luck to people, particularly important for the coming new year!
We enjoyed lots of traditional Chinese dishes, including fried milk, a regional dish  from the Guangdong Province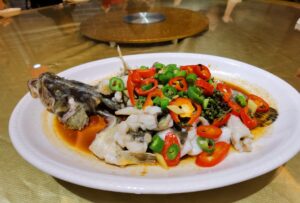 Our family shares time together, my son has been learning to write Chinese calligraphy for 3 years

Sammi, our Taiwan Sales Account Manager says;
"The Lunar New Year is the longest folk festival in Taiwan,  and is a time for families to be together. The main traditional celebrations of the festival include eating dinner with family, giving firecrackers, new clothes and Red envelopes, these usually contain money and are given to children and seniors. Red envelopes are used in the hope of giving good luck (as well as money) to the receivers.
We celebrate with a New Year's Eve dinner called "reunion dinner", and is believed to be the most important meal of the year, and generally has a symbolic meaning. We like to eat "perennial vegetables" Mustard is said to promote longevity, and "leeks" (homonym "leek" "long", said "long long").
Also, eating Radish (turnips), is said to promote good luck; and if we eat fish, it is said there will be surplus year after year"
Max our Hong Kong Sales Account Manager says;
"My family are from Beijing, so for us Mum always cooks fish, chicken and soup, and my favourite homemade 'Braised Beef Shank' " (See below for recipe link)
Braised Beef Shank recipe https://www.youtube.com/watch?v=318rdUn5uq0
How will you be celebrating Chinese New Year?
Why not try cooking a selection of your favourite delicious Chinese food, and host your own Chinese banquet, experimenting with various ingredients?
One of my favourite Chinese recipes is Crispy Sesame Chicken, it tastes just like the takeaway version, its my families favourite, and I'm sure I will be making this over the Chinese festive period, see below for recipe link!
https://www.kitchensanctuary.com/crispy-sesame-chicken-sticky-asian-sauce/
You can call our friendly, dedicated UK team on +44 (0)1260 291691 or email info@pro-stretch.net to discuss your needs.
Click on the links below to follow all our social media channels, and to keep up to date with news, product innovations, and everything Pro-Stretch.
Braised Beef Shank recipe https://www.youtube.com/watch?v=318rdUn5uq0
Other content sources  https://chinesenewyear.net/food/ 
Our Privacy policy here contains more information on external links and how we use your data.