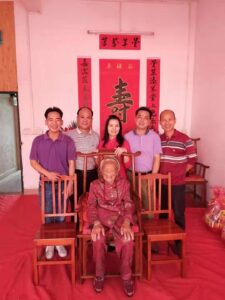 Our overseas offices are an important part of Pro-Stretch Trims International, and we love to see what our staff are getting up to in their social life.
Recently our China office have been celebrating the 100th Birthday of a local lady called Yinqing Jiang, a beautiful name, typically meaning 'Pure Silver'
There is a famous Chinese saying: Thousand year old trees are often found in the world, but a hundred year old person are rare.
Its is customary to have big celebrations in China, especially for landmark centenary birthdays., which is a huge achievement in life, and should be celebrated with vigour.
The villages join together to celebrate life, and share health and happiness, offering good wishes for everyone.
Fruit baskets are carried by the ladies wearing Red dresses in a parade
Mona our China office manager explains more;
"All the married daughters in the same village will wear the same red colour dress"
Mona and the Red dress ladies
"The daughters purchase fruit for the baskets, then go back to the mother's home to celebrate the birthday for their hundred years old mum"
'There can often be a millennium tree, but rarely a centenary man'
Mona (right) -Our China office manager
Congratulations Yinqing Jiang, we wish you a very happy 100th birthday, from all at Pro-Stretch Trims International.
Keep your eyes peeled for more Blogs from our overseas teams
To find out more and keep up to date with everything Pro-Stretch, follow all our Social channels, links below