June is 'Pride' month
Every June, Lesbian, Gay, Bisexual, Transgender and Queer (LGBTQ) Pride Month is celebrated to honour the 1969 Stonewall uprising in NYC.
The Stonewall uprising was a tipping point for the Gay Liberation Movement in the United States. The last Sunday in June was initially celebrated as "Gay Pride Day," but the actual day was flexible. In major cities across the nation the "day" soon grew to encompass a month-long series of events. Today, celebrations include pride parades, picnics, parties, workshops, symposia and concerts, and LGBTQ Pride Month events attract millions of participants around the world.
Here at Pro-Stretch to celebrate 'Pride' month, we have put together a celebration of our 'Pride' inspired products, showing the different ways colour can be applied to enhance a product, and the diversity using colour can bring.
Using colour
Using contrasting colours can really make a product pop, and using various coloured trims to enhance a garment, is a cost effective way to update a core seasonal item.
Many of our trims are available in your chosen bespoke colours or to match your seasonal palettes.
We can match Pantone references or match any chosen colour standards.
Browse more of our trim products HERE
Elastics, drawcords and tippings, mechanical stretch, knitted trims, rigids, labels and tabs are many of the products available to design.
Our drawcords and tippings are available in many different options depending on the garments end use, view our Drawcord and Tips online catalogues HERE
These can be for decorative, technical or performance use.
Using a variety of tippings, can change the function, and look of a drawcord, our most popular options include silicone dip, metal, and plastic.
We can also offer sustainable options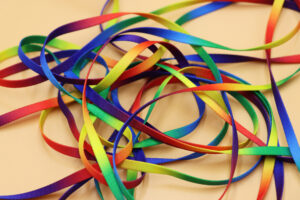 Multi coloured drawcord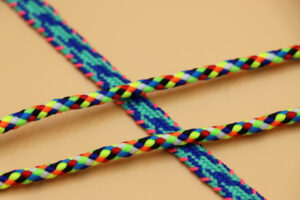 Braided drawcord
Our labels, tabs and patches can be produced to your specification, heat transfer, bonded, sewn, printed, woven, the choice is yours.
Multi coloured labels and tabs
Innovative woven labels
We have lots of coloured trims to inspire you, see below for some of our favourites
Multi coloured knitted trim
Braided rigid trim
Multi coloured elastics, which is your favourite?
We can offer unlimited support, outstanding UK based account management through the development stage, and an excellent English speaking Hong Kong based customer service operations team. With other offices based in China, Taiwan and USA,  we can offer a global support network for your garment makers.
We also offer a design service if required and FREE sample development.
Contact us to discuss your needs +44(0)1260 291691 or email info@pro-stretch.net.
Pro-Mask colours
Our reusable face masks are available in a rainbow of colours, and from only £2.50 are great value for money.
Adult regular, XL, also kids sizes are available, browse Pro-Mask HERE
We also have replacement filter inserts available to fit both adult and kids sizes, from only £5 for 10 filters.
Each filter offers up to 8 hours continuous use protection.
Pro-Mask is the trusted reusable face mask for all.
Keep an eye out on all our social media channels for more 'Pride' inspiration throughout June
And don't forget you can keep up to date with everything Pro-Mask, by following all our Social channels, see links below
Additional content: https://www.loc.gov/lgbt-pride-month/about/