Over the next few months we will be dedicating our 'Spotlight on' Blog posts to each of our UK staff. You will be able to learn more about the people behind Pro-Stretch UK, and even learn some interesting facts about them too….all in their own words.
This week we meet Joanne Bywater, our Head of Marketing here at Pro-Stretch UK,
Hi there, I'm Joanne, I've worked in several different roles within Pro-Stretch UK for a number of years. I started out as an Accounts Assistant where I supported the Account managers within their roles, helping to coordinate our customers and brands. Over the years my role has evolved, and I am now passionately working in the marketing field.
Being Head of Marketing here can be challenging at times, but to keep Pro-stretch ahead of the game, it is important that we stand out from our competitors. By using Social media and other digital marketing techniques we can ensure that we raise awareness of the brand. I create content for all our social media platforms, which include, Instagram, Facebook, Twitter, Pinterest, and LinkedIn.
By keeping our website up to date with fresh and dynamic content we can achieve this. I am always looking for new ways to promote Pro-Stretch.
Another part of my role here includes hand making all of our sample catalogues to suit each customer's needs, this can be quite time consuming, but great fun.
You can find out more information about our online catalogues by following this link, and don't forget you can get in touch with us if you require any further information on any of our trims or products.
Call us on 01260 291691, or email info@pro-stretch.net, we have a friendly and dedicated, UK based team to answer all your enquiries.
A little bit more about me…
I am Mum to my 8 year old daughter, which keeps me very busy, but in my spare time I love baking cakes for friends and family, and I would love to go on GBBO!!
I also love watching musicals at the theatre, going to music festivals and travelling around the UK in my camper van.
Interesting facts:
I have a BA Honours degree in Dance! and I recently returned to the stage after a 10-year break, performing with members of the dance company I was involved in as a teenager! Which was great fun!
I'm also the Captain for a local Netball team, we meet twice a week and play in a league…I am also a massive fan of Lego!
Looking back at Joanne's time here at Pro-Stretch..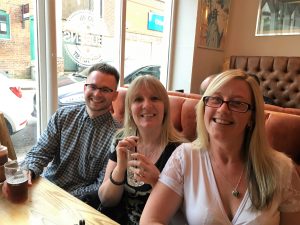 So what does the future hold for Joanne at Pro-Stretch?
Joanne says "Pro-Stretch have some exciting plans ahead: Expanding into Vietnam, and working with more and more brands means we are busier than ever. The future looks bright and busy with Pro-Stretch!"
Look out for more 'Spotlight on' posts coming soon!
If you want to find out more, keep up to date with everything Pro-Stretch by following all of our Social channels, links below