UK summertime is officially here following the Summer Solstice on 21st June….hooray we hear you say!!
We love the summer at Pro-Stretch, and what a great time to showcase some of our brighter trims, labels and drawcords.
We have put together some ideas for designs and patterns that incorporate a summer palette, browse the sections below for some summer inspiration.
Florals and Figurative forms
Many picture forms and images can be woven into our trims from supplied artwork. We also offer a design service if needed.
Using a print method called sublimation print, we can achieve beautifully precise pattern to our trims, this method of print can be applied to many different trims and labels.
 
For more trims inspiration check out our catalogues HERE
Stripes
Stripes can come in lots of forms, and can be used in clever ways in trims and labels.
Mixing colours and width of stripes can have a lovely effect, and can create a practical solution for your garment.
For more trims inspiration check out our catalogues HERE
Geometrics
Using repeated shapes to create a pattern can be classed as a geometric design.
Many of our trims have this type of pattern applied, either by print or woven.
Using these type of patterns can add an extra element to trims, labels or drawcords.
For more trims inspiration check out our catalogues HERE
Plain
Never understated, the plain trims are often the most versatile on a garment. Using a variety of debossed/embossed or cut out patterns we can create an amazing plain trim, that can enhance a product using various colours.
We can also use shiny or glitter yarns to provide another dimension to the trim, or simply a patterned weave to enhance a plain tape.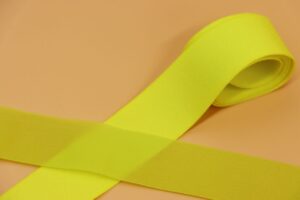 For more trims inspiration check out our catalogues HERE
Innovative
We are constantly looking for new and interesting methods to produce trims, labels and drawcords.
A great innovation is to apply a heat reactive silicone print to trims, this will then change colour in different temperatures. Creating a unique, individual and ever changing pattern, making this trim an interesting addition to your garment.
Glow in the dark is another functionable trim, and can be used for high visibility garments, or other safety clothing purposes.
Zippers, and drawcords can be produced in a vast array of options, adding an extra dimension, and cost effective solution to a garment trim.
We are always looking at ways we can offer our brands the perfect solution.
For more Innovative trims inspiration check out our catalogues HERE
For more information on any of our products, or to discuss your requirements please contact us on +44 (0)1260 291691 or email info@pro-stretch.net
Why not keep up to date with all the Pro-Stretch news by following our social media channels, click on any of the icon links below