As a trusted supplier to the top global sportswear brands, here at Pro-Stretch we produce many beautiful trims, but some of our favourites are the Elastics we create.
With lots of options available, we can create many different designs, colours, and widths. These can be created for functionable garments, as well as for novelty/aesthetic purposes.
We can create designs using your own artwork, or we can provide a design service; we also offer FREE sample development.
Contact us to discuss your needs on +44(0)1260 291691 or email info@pro-stretch.net
Waistbands can be both practical and decorative, some are sewn into a garment, being integrated, these are usually a basic plain elastic, as this will not be seen. But some are designed to be on show, especially for sports bras and leggings or a similar garment with a waistband, this creates interest and can be used to promote the brands logo or wording if required.
Waistbands and bra elastics tend to be a wider elastic, especially for leggings, and often include a silicone strip or pattern to act as a gripper to the skin. This is particularly beneficial for performance garments, and gymwear apparel.
Silicone patterns can include dots, stripes, or other patterns that can be worked within the design.
We can even supply the silicone print or pattern with the added benefit of a temperature colour change, as the tape below shows.
One of our bestselling elastics can be used as a drawcord, also known as a 'bungee cord' elastic, see our online catalogues HERE for examples.
These are often used as thin elastic drawcords in performance sportswear/athleisure garments, and can include reflective yarns, to achieve a Hi Vis effect, which is great for running apparel.
They can also have a tipping attached if required, we usually use a locking tip for a small width elastic, for added security, so that this will not become loose with wear.
Another use can be for zipper pullers, which can also include a rubber or plastic grip, as seen below
We can use a multitude of weave and print techniques to develop your elastic trims. See below for more examples
Rainbow mixed elastics
High shine yarn elastic
Lurex elastic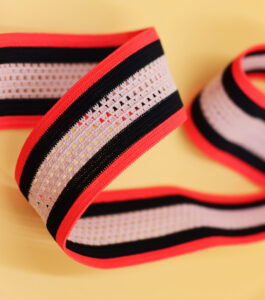 Mesh elastic
Mirror elastic
Why not browse our online catalogues, for more inspiration, click HERE
An alternative to elastic is our popular mechanical stretch tape, find out more HERE
Don't miss our next blog, which focusses on our Mechanical Stretch process.
Keep up to date with everything Pro-Stretch and follow all our social media platforms