Over the next few months we will be dedicating our 'Spotlight on' Blog posts to our UK staff. You will be able to learn more about the people behind Pro-Stretch UK, and even learn some interesting facts about them too….all in their own words.
This week we meet Kathryn Mattley, one of our Sales Managers here at Pro-Stretch UK,
Hello..I'm Kathryn and I have worked for Pro-Stretch Trims International for over a decade! I really enjoy working here, as it feels like we are one big family, in fact I work alongside my sister, Joanne too (See Joanne's 'Spotlight On' Post here)
Being the sales manager for our largest sportswear account is a great responsibility, and there is lots of work to do. I work alongside my colleague Angie to ensure we provide excellent customer service for this brand, and working as a team ensures we can cover all aspects.
Many of the day to day challenges we face are the development of new innovative products, as these can sometimes be complex, especially if they are for a specific requirement. The brand developers often require several different sample versions to ensure they investigate all options. This must fulfil their brand guidelines, season colours, garment use requirements and of course quality and wash test results.
All of these processes take a certain time to complete to satisfaction, we give our customers realistic sample lead times, which can be as little as 21 days. Working closely with our factories and Asia offices means we can always ensure these deadlines are met, in fact what makes us stand out from our competitors is our dedication to achieve the best for our brands and customers.
With many of our brands being located worldwide, this means I get to travel with work, and I have been lucky enough to visit Hong Kong, China, Vietnam, Germany, and USA over the years. Being able to meet all the brand developers face to face enables us to build great working relationships. We can present our sample books,  so they can see the new developments and innovative products we can provide, its good that they can hand feel the samples, to aid them in their development.
More about me…
When I am away from work home life is busy being Mum to my young daughter, and 2 step daughters.
I love to spend time with all my family, my 3 sisters are always organising events, and we all holiday together at least once a year.
Interesting facts:
My step mum Christine is the founder and CEO of the company 😊
Looking back at Kathryn's time here at Pro-Stretch..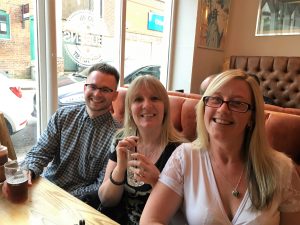 So what does the future hold for Kathryn at Pro-Stretch?
Kathryn says "Being responsible for our largest sportswear account here, keeps me very busy, and I hope to expand this over the next few years, with the addition of our Vietnam factory".
Pro-Stretch have some exciting plans ahead: Working with more and more brands means we are busier than ever. The future looks bright and busy with Pro-Stretch!"
Look out for more 'Spotlight on posts coming soon!
If you want to find out more, keep up to date with everything Pro-Stretch by following all our Social channels, links below