'Spotlight On'
Welcome to our 'Spotlight On' blog space. Here you will be able to learn more about the people behind Pro-Stretch International and even learn some interesting facts about them too… all their own words!
Here is our 'Spotlight On' Angie Larder, our Senior Sales Manager here at Pro-Stretch UK.
Hi, I'm Angie and I have worked for Pro-Stretch UK for 19 years, in fact right from the beginning! I have seen many changes in the business since it started in 2003.
Being involved with the business from the start, has given me valuable experience and knowledge. This has given me a great insight into all of the processes and procedures, from Production and Shipping, right through to my role today in Account Management.
My goal is to provide great customer service that is second-to-none, and I think this is one of the things that makes Pro-stretch stand out from the competition.
I have travelled the world with Pro-stretch, visiting our brands and customers, and its always great to meet them face to face and present them with our new products and innovative trims.
More about me…I graduated in 2001 with a 1st Class Honours in Business Management; my colleagues often laugh, as I have such a diverse background working in retail, education and childcare too. I am also a qualified Aromatherapist, and I have taught keyboard lessons, having passed all the Royal College of Music grades with Distinction.
When I'm away from work, I am Mum to my young daughter and son, who like to keep me very busy.
In my rare spare time I really enjoy going to the theatre, cinema, and eating out…and my favourite food is Greek.
Interesting facts:
I have been friends with my team mate Kathryn all my life! She is definitely my work wife! 😉 (see Kathryn's Spotlight on post here)
Looking back at Angie's time here at Pro-Stretch..
….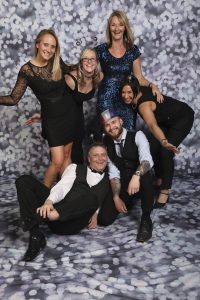 ….
So what does the future hold for Angie at Pro-Stretch?
Angie says "Pro-Stretch have some exciting plans ahead: Expanding into Vietnam, and working with more and more brands means we are busier than ever. The future looks bright and busy with Pro-Stretch!"
Look out for more 'Spotlight on' posts coming soon!
If you want to find out more, keep up to date with everything Pro-Stretch by following all our Social channels, links below